2018 Chopin Concerts. Recitals every Sunday
---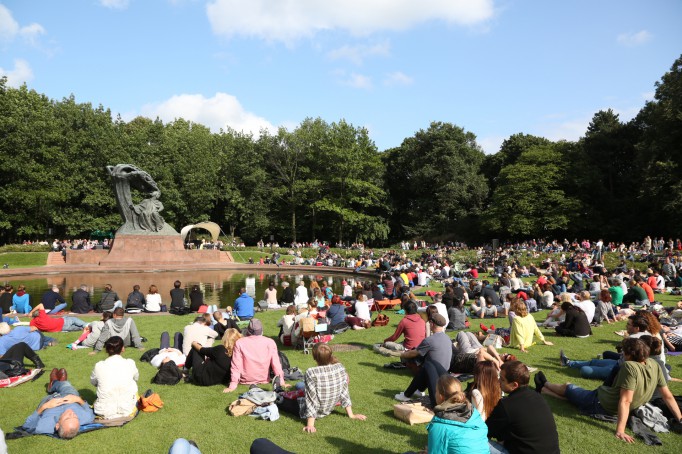 Feel invited to the 59th Season of Chopin Concerts in the Royal Łazienki. Recitals at the foot of the Monument to Chopin will be held every Sunday at 12.00 and 16.00. Hear pianists of worldwide renown, including outstanding musicians of the younger generation.
Summer recitals will take place in the Royal Łazienki until 30 September. Audiences will enjoy recitals by 42 finest pianists from Poland, Japan and Italy. They won prizes in numerous competitions, including the International Chopin Piano Competition and are known for their great artistic achievements.
The concerts, which are organized by the Royal Łazienki in cooperation with Stołeczna Estrada cultural institution and the Fryderyk Chopin Society, are extremely popular, both among tourists and residents of Warsaw. 80,000 listeners attend them every year, and the pianists consider giving these performances an honour.
The recitals by the Monument to Chopin were first organised in 1959, soon after the monument to the remarkable Polish composer was reconstructed. Ever since, the concerts have taken place every year, becoming an important part of Warsaw's cultural calendar.
59TH SEASON OF CHOPIN CONCERTS IN THE ROYAL ŁAZIENKI
13 May
12.00 – Ingolf Wunder, 16.00 – Radosław Sobczak
20 May
12.00 – Joanna Różewska, 16.00 – Edward Wolanin
27 May
12.00 – Jacek Kortus, 16.00 – Joanna Ławrynowicz-Just
3 June
12.00 – Giuliano Adorno (Italy), 16.00 – Maria Korecka-Soszkowska
10 June
12.00 – Piotr Alexewicz, 16.00 – Joanna Marcinkowska
17 June
12.00 – Bartosz Skłodowski, 16.00 – Maciej Zagórski
24 June
12.00 – Karol Radziwonowicz, 16.00 – Elżbieta Karaś-Krasztel
1 July
12.00 – Julia Kociuban, 16.00 – Marcin Koziak
8 July
12.00 – Karolina Nadolska, 16.00 – Weronika Chodakowska
15 July
12.00 – Aleksandra Bobrowska, 16.00 – Andrzej Wierciński
22 July
12.00 – Wojciech Kruczek, 16.00 – Michał Drewnowski
29 July
12.00 – Anna Maria Stańczyk, 16.00 – Paweł Kowalski
5 August
12.00 – Marek Drewnowski, 16.00 – Adam Mikołaj Goździewski
12 August
12.00 – Beata Bilińska, 16.00 – Tokiko Kobayakawa (Japan)
19 August
12.00 – Julia Łozowska, 16.00 – Maria Szraiber
26 August
12.00 – Rinko Kobayashi (Japan), 16.00 – Anna Hajduk-Rynkowicz
2 September
12.00 – Bronisława Kawalla, 16.00 – Dmitrij Szyszkin
9 September
12.00 – Paweł Wakarecy, 16.00 – Przemysław Lechowski
16 September
12.00 – Filip Wojciechowski, 16.00 – Justyna Galant
23 September
12.00 – Jerzy Sterczyński, 16.00 – Yuka Susono (Japan)
30 September
12.00 – Piotr Latoszyński, 16.00 – Serhij Hrychorenko