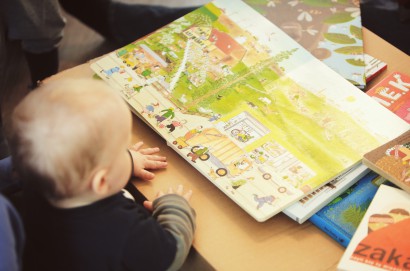 ---
Reading time in English
---
Workshops for children aged 1-3
'Reading time in English' is a series of four classes, where children and their carers will meet characters from English-language books. Exciting readings will allow the youngest ones to become familiar with the melody and sound of the English language. During the classes, they will hear names of characters, colours, animals and places.
Each meeting will be devoted to a selected book that will inspire the participants to pursue creative artistic endeavours. Additional motor skills and musical activities will help children learn English in a fun atmosphere.
You must sign up in advance: warsztaty@lazienki-krolewskie.pl or tel. 22 50 60 183. A ticket for a single meeting costs 25 zlotys (child and carer); a pass – 90 zlotys for four classes.
Dates and themes of the workshops:
21 January, 11:00 a.m., the Old Guardhouse – 'I want my tooth' by Tony Ross
A little princess with a wonderful smile delights the whole court. One day she loses her tooth. She is looking for it everywhere, it is nowhere to be found… The participants of this January meeting will embark on an adventure together in search of a missing tooth.
4 February, 11:00 a.m., the Old Guardhouse – 'The Lion Inside' by Rachel Bright
Children will learn the story of a little mouse who dreams about being able to roar like a great lion. Will she manage to overcome fear and make her dream come true? Will the lion prove to be a good teacher? Children will have a chance to see it for themselves during February classes, additionally featuring a game of cat and mouse.
11 March, 11:00 a.m., the Old Guardhouse - 'The very hungry Caterpillar' by Eric Carle
During classes in March, a very hungry caterpillar will tell the participants about her favourite treats and colours. Children will follow the story of a small creature, gradually changing into a beautiful butterfly. They will use paper to make their own butterflies and will improvise their dance performance.
22 April, 11:00 a.m., the Old Guardhouse – 'Toto's Apple' by Mathieu Lavoie
Who would not love to eat a sweet apple ripening on a green tree? What do we do when we are 'here' on the ground and the apple is 'there' – high on a branch? Together, children will try to find a way to reach the tasty red fruit.
Host of the workshops:
Lidia Iwanowska – Szymańska – a graduate of the Department of English Studies and the Faculty of Polish Studies at the University of Warsaw, an interpreter in English, an aspiring author of books for children, a choir performer and an accordionist.