#Klasa rysunkowa drawing class. Art workshops for youth aged 10-15
---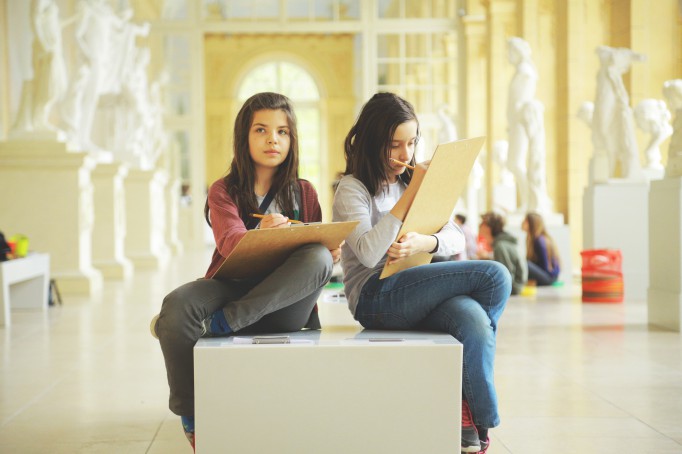 Are your notebooks filled with lines, zigzags and patterns? Do you find it impossible to fall asleep until you draw something? If your answer to the above questions is "yes", attending our drawing course will be a great opportunity for you to develop art skills.
The #Klasa rysunkowa drawing class is intended for people aged 10-15. The classes will take place in the Royal Sculpture Gallery in the Old Orangery, where plaster copies of the most famous Ancient sculptures are displayed, in the Polish Sculpture Gallery and in the historical gardens. The Museum will provide art materials, subject matter mentoring, individual consultations, and a unique, focus-friendly space for creative work.
Buy a pass for 100 zlotys to attend the whole drawing course consisting of nine classes. You may also participate in individual classes buying a ticket for 12 zlotys. Registration for classes: warsztaty@lazienki-krolewskie.pl or tel. 22 50 60 042.
Course dates and topics:
22 April – Line
#liniąuchwycone, #160znaków, #crossline, #notwhitecube
27 May – Detail
#pieceofart, #niuans, #watchyourself, #ślad, #ociupina
17 June – Portrait
#selfie, #avecesar, #myimage, #rzymskiportret, #lol
29 July – Great Drawing/Open Air
#italy, #weduta, #alfresco, #nature, #landscape, #garden
26 August – Great Drawing/Architecture
#pałac, #metopa, #porte-fenêtre, #bryła, #royalresidence
16 September – Styling
#illustrationart, #lubiębazgrać, #szancer, #mystory, #doodle
28 October – Texture
#zmaganiazmaterią, #stilllife, #texture, #slipperyharshplain
18 November – Comic Art
#addsomething, #zarysujto, #tellit, #kartkawkratkę, #dymek
9 December – Figure
#przyjdźpostać, #torsobelvedere, #kontrapost, #tyranobójcy
Instructors:
Katarzyna Pasternak-Borawska – graduate of the Graphic Arts Faculty of the Academy of Fine Arts in Warsaw. She deals with publishing graphics and packaging designing. She has run drawing and painting courses for children and adults in Myjak Atelier. She is a finalist of the AGRAFA International Students' Graphic Design Competition in Katowice and Grafika Warszawska (Warsaw Graphic Design). She has presented her works at joint and individual exhibitions, including the 21st International Poster Biennale in Wilanów, in Grenoble, in Łowicka Culture and Education Centre in Warsaw, and in the OKej Centre of Culture in the town of Brwinów, where she has lived for several years.
Zofia Zaccaria – graduate of the Graphic Arts Faculty of the Academy of Fine Arts in Warsaw (diploma in printmaking), with degrees in Painting at Accademia di Belle Arti di Perugia, Italian Language and Culture at Universita per Stranieri di Perugia, Postgraduate Teaching Methodology Studies at the Academy of Fine Arts and Postgraduate Musicology Studies at the University of Warsaw. Painter, education specialist, coordinator of creative family workshops and art workshops for youth in the Education Centre of the Royal Łazienki Museum.