Sphere of Silence - Royal Łazienki Music Festival
---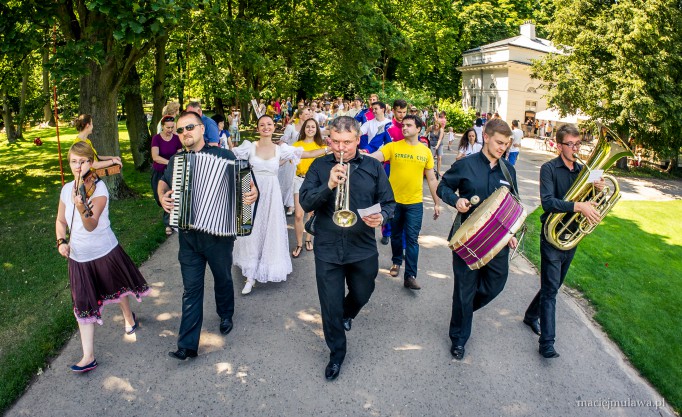 Sphere of Silence - Royal Łazienki Music Festival in the Royal Łazienki. The absence of certain sounds makes our auditory perception more sensitive and enables us to notice the sounds of low intensity - said festival initiator and director Ryszard Kubiak.
Classical, jazz and traditional music concerts performed by over 300 artists from Poland, Germany, Russia and France, will fill the programme of the 3rd edition of the Sphere of Silence Festival taking place between June 21st and July 26th in the Royal Łazienki.
A harmonious fusion of music, beautiful gardens and 18th-century architecture – advertise the festival organizers.
Last year's edition consisting of 175 concerts was attended by over 60 000 listeners. The festival's outdoor performances are a great way to spend time in peace and harmony away from the city noise. The combination of nature and tranquil music makes the festival one of the most exciting summer events in Warsaw. Our concerts take place in beautiful scenery of historic Royal Gardens. In several quiet and picturesque spots the audience sitting on the grass will be given an opportunity to rest and contemplate the beauty of nature while listening to music – says Ryszard Kubiak, the festival initiator and director.
The opening day of this year's edition will take place on June 21st, 2015 – International Music Day. The Amphitheatre will host a well-known instrumentalist Maria Pomianowska joined by her ensemble and the Radom Chamber Orchestra who will perform compositions from the album Chopin on 5 continents. The concert schedule includes also the performances of harpist Zuzanna Elster and flutist Anna Karwowska. The succeeding weekends until July 26 will be devoted to music of different countries, presented by Flowchestrino from Berlin, 2 percussionists Joel Grare and Bruno Caillat performing under the name La Plume et L'enclume, Madame Victoire accompanied by clarinet and accordion and a male vocal ensemble Anthem from Russia. The foreign guests have been invited as a result of the Royal Łazienki Museum's cooperation with international partner-institutions - Château de Lunéville, Bad Muskau and Tsarskoye Selo.
June 27-28, 2015 – International music weekend
July 4-5, 2015 – German music weekend
July 11-12, 2015 – French music weekend
July 18-19, 2015 – Russian music weekend
July 25-26, 2015 – Polish music weekend
The festival audience will be exposed to high artistic quality. New project "Mazurkas" presented by Marcin Masecki, whose last year's performance involved playing piano during a ride around the park, will be one of the highlights. Izabela Buchowska and Anna Kwiatkowska will also refer to the character of this traditional musical form in "Entertaining Mazurkas" - world premiere of Bartosz Smorągiewicz's composition.
The festival provides not only open-air concerts, but also collective celebration of music and art. We would like to encourage the audience not only to listen to the concerts, but also to actively participate in collective singing, performing, dancing and experiencing music. As usual, the Sphere of Silence Festival offers a variety of events and all visitors – children, adults, music lovers and those who will experience musical activities for the first time – will be able to find suitable ones –– emphasized Piotr Łabanow, one of the event organizers.
The festival programme includes also concerts for children and Open Stage. The organizers encourage professional and amateur soloists, ensembles, vocalists and instrumentalists of all ages to join the music-making sessions and share their talents with the audience. In order to enroll for the performance, send an e-mail to: koncerty@muzykajest.pl or call: 694 266 888.