The Chinese Garden, situated in the northern, naturalistic part of the Royal Łazienki, was designed according to existing historical models from Prince Kung's Mansion in Beijing. Additionally, the garden alludes to the chinoiserie style, which reached its peak popularity in the Royal Łazienki thanks to King Stanisław August.
It was on his initiative that in 1780 the former Road to Wilanów became the Chinese Avenue. At the time, at the intersection with the Royal Promenade, a stylized Chinese Bridge had been constructed; its remains were discovered by archaeologists in 2012. Near that location - by the Chinese Avenue and alongside the stream - the Chinese Garden has been situated.
The concept of the new Chinese Garden, which was officially opened in 2014, was developed by Professor Edward Bartman and architect Paweł Bartman in cooperation with Chinese architects from Prince Kung's Mansion in Beijing. According to Doctor Andrzej Michałowski, the new Chinese Garden exhibits distinguishing features of the chinoiserie style (pronounced sheen-wah-zuh-ree) and of the time of Stanisław August. As Chinese architecture historian Wang Hongbo stated, the Chinese Pavilion - symbolising the masculine element, and the openwork Chinese Arbour - symbolising femininity, are connected with a stone bridge spanning the stream, which represents the Milky Way.
Roofs covering the Pavilion and the Arbour are made of hand-glazed tiles produced in China, and in the colour of ochre (resembling yellow). The colour was reserved for the Emperor, and in the Royal Łazienki it is symbolically attributed to Stanisław August and the memory of him. The roof tiles in thirteen different shapes are true masterpieces, just like the marble bridge made by Chinese masters of masonry coming from families working in the trade for 2000 years.
Eight paintings displayed inside the pavilion present a tale filled with traditional Chinese themes. Twisting paths - similar to those in original Chinese gardens - lead from the bridge to the pavilion and the arbour. Typical lanterns have been installed near the entrances, next to the pavilion, and by the bridge; around the pond, plants of both local and of Chinese provenance have been planted. One cannot ignore the two lions standing by the entrance to the Garden - gifts from the Mansion of Prince Kung to the Royal Łazienki. The lions symbolize abundance and wealth.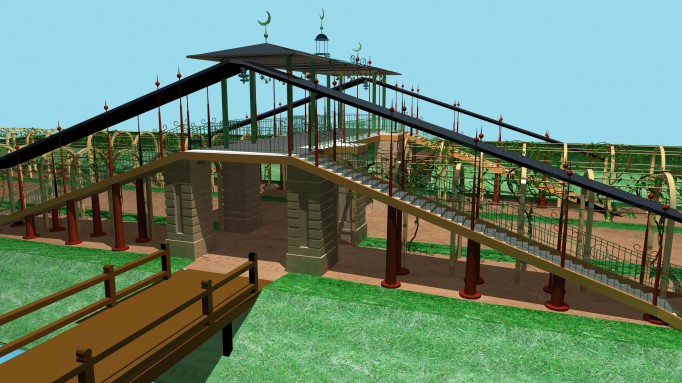 play video: The Chinese Bridge in the Royal Łazienki
The Chinese Bridge in the Royal Łazienki
In the era of Stanislaw August, it was located at the intersection of the Royal Promenade and the Chinese Avenue, in the close vicinity of the White Pavilion. During renovation works of the Chinese Avenue conducted in 2012, archaeologists discovered the foundations of pillars of a bridge, which – in combination with archival documents – allowed for a digital reconstruction of architectural features characterising the space of 18th-century gardens.