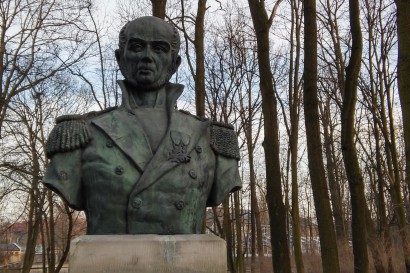 ---
Bust of Józef Bem
---
The Bust of Józef Bem is located near the Amphitheatre. It is a bronze bust elevated on a pedestal. It was made by Bohdan Święcicki.
The monument was set up in the barracks at the initiative of the 1st Regiment of Horse Artillery. It was unveiled in 1924; in 2004 the bust was moved to its current location.
The General is depicted according to 19th century prints. He is dressed in a uniform coat with epaulettes, i.e. shoulder pieces with fringes. His chest is decorated with two orders. One of them is the Order of the Legion of Honour – the highest decoration in France. It was awarded to Bem for his merits during the defence of Gdańsk from the Russians in 1813. The other order is the Golden Cross of Virtuti Militari, which he received in 1831.
General of the Polish Army Józef Bem lived in the years 1794-1850. He was one of the leaders of the November Uprising. During the defence of Warsaw, he was the commander of artillery. He is the hero of the poem Bema pamięci żałobny rapsod (A Mournful Rhapsody in Memoriam of Bem), written by Cyprian Kamil Norwid, whose bust stands in the Royal Łazienki Park too.