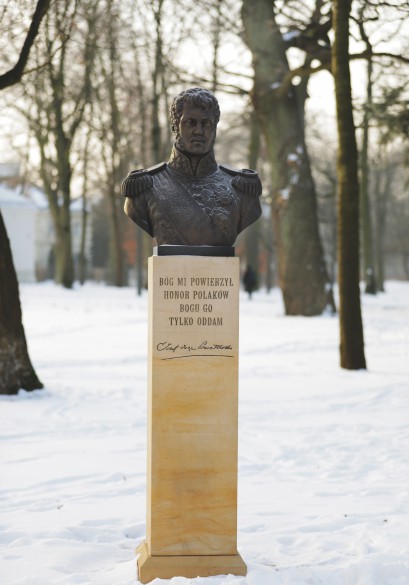 ---
Statue of Prince Józef Poniatowski
---
The bronze bust of Prince Józef Poniatowski, Polish general, minister of war and chief commander of Polish Army of Warsaw Duchy stands in the vicinity of the Myślewicki Palace.
Józef Poniatowski was the owner of Myślewice built on the orders of king Stanisław August from around 1779. The façade of the Palace bears the initials "JP". On the first floor of the building, there is the prince's bedroom.
The bust of Józef Poniatowski was made based on a rich iconographic material. The prince was depicted down to the half of his torso, with a gently rounded line of his shoulders, his head slightly tilted rightwards, in the uniform of a general – the epaulets with crossed batons symbolise the marshal's status (he was appointed three days before death in the Battle of Leipzig). On the bust we can see ribbons and stars of the Legion of Honour and the Virtuti Military Order.
The bust is 74cm high. The granite socle has 160cm; it features an inscription with the sentence:
GOD ENTRUSTED TO ME
THE HONOUR OF POLES
TO GOD ONLY
I SHALL RETURN IT
The facsimile of the signature of Prince Poniatowski placed below has been sanded and patinated.