"Painting" - family painting area in the Old Guardhouse
---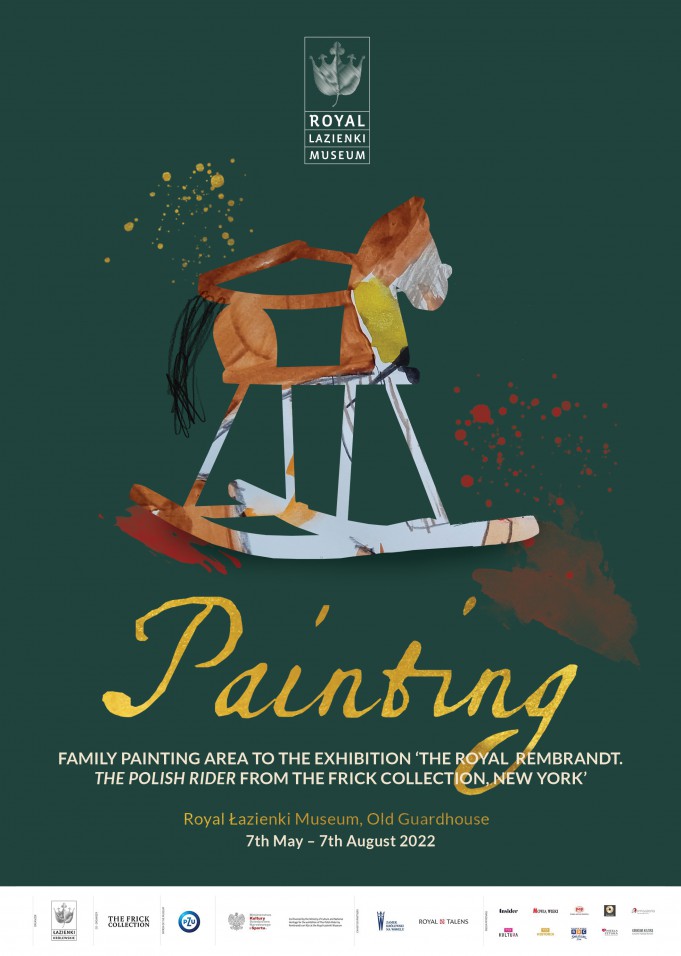 We would like to welcome children and their caretakers to the family painting area in the Old Guardhouse. The place has been created for common experience of art – learning, stimulation of imagination, sensory perception of the painterly nature of the world, and simply for having fun.
The family painting area was inspired by one of Rembrandt van Rijn's paintings – "The Polish Rider" from The Frick Collection in New York, exhibited at the Royal Łazienki Museum.
In the painting zone, everyone can find something for themselves. We have prepared a play area for the youngest, walls with collectibles to admire and touch, a corner for those looking for quiet and relaxation with poetry, music and art, a display designed for exhibitions of one's own creations, a painter's workshop and space for free painting on large areas.
Book a time, come and experience fun through art together with your child. Paint with a brush, a word, a thought.
Opening times, entry
The family painting zone will be open from 12 January 2023 (from Thursday to Sunday): 11.00-12.45 (1st entry), 13.00-14.45 (2nd entry), 15.00-16.45 (3rd entry).
Entry: 5 zlotys / family; tickets can be purchased on Thursday in the Old Guardhouse, and, on weekends, at the ticket office of the Officer Cadets School in Łazienki (Saturday from 10.00 to 16.00, Sunday from 10.00 to 15.00.). Fridays – free entry.
Bookings: rezerwacje@lazienki-krolewskie.pl
The family painting zone is adapted for people with sensory disorders. Available facilities include a ramp for wheelchairs, elements in the zone to be discovered with touch, noise-cancelling headphones for children and adults, a sensory book with Braille script, invitation to the zone of the Polish Sign Language, typhlographics for the youngest.
Education programme
From May to August, the "Painting" section offers activities, animations and workshops for children and their caretakers, activities for hearing-impaired children and art workshops for adults.