Toward the end of the 17th century, a smaller building stood in the place of today's Great Annexe (Officer Cadets School). It served as a kitchen, where meals were prepared for the residents of the Bathhouse of Stanisław Herakliusz Lubomirski. In the time of Stanisław August, the building was considerably expanded (according to a design by Domenico Merlini) and then named the Great Annexe.
The exterior of the one-storey building, which had been designed on a rectangular horseshoe floor plan, was raw and simple as it was used to serve the Palace on the Isle. Apart from the kitchen, pantry and cellar for alcoholic beverages, the Great Annexe contained residential rooms. Several of them were occupied by Elżbieta Grabowska, a long-standing friend of the king; members of Stanisław August's court lived here too: Major General Arnold Byszewski, cup-bearer Antoni Luciński, head cook Paul Tremo, royal butler and servant Ludwik Brunet and pageboys of Stanisław August.
Until the outbreak of World War I, the kitchen was connected with the Palace on the Isle by a roofed wooden corridor lined with a marble floor.
Officer Cadets School
In 1822, the Great Annexe was handed over to the Infantry Cadets School from which the name of the building currently in use originates - the Officer Cadets School.
historical event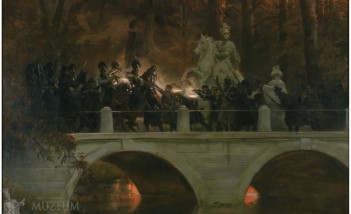 The November Uprising
On 29 November 1830, a group of conspirators left the building of the Officer Cadets School in Łazienki (Podchorążówka) and seized control of the nearby Belvedere Palace, the seat of the commander of the Russian forces, Grand Duke Konstantin. The group was led by sublieutenant Piotr Wysocki. This is how the November Uprising began in the Royal Łazienki.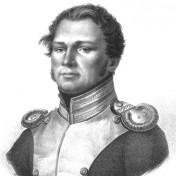 Piotr Wysocki (1797-1875)
He studied at the Infantry Cadets School in Warsaw, where he became lecturer in 1828. He was an infantry instructor, but he did not teach military subjects only. He founded a secret patriotic association called Sprzysiężenie Wysockiego (Wysocki's Plot). After the start of the uprising, he was appointed captain and adjutant of the commander-in-chief Michał Radziwiłł. He took part in many battles of the uprising and gained the rank of colonel through service. In 1831, he was taken prisoner by the Russians and deported to Siberia. As a result of an amnesty in 1857, after a quarter of a century, he returned to Poland and settled down in the town of Warka. His bust stands in the Łazienki Park, near the Officer Cadets School.
see also