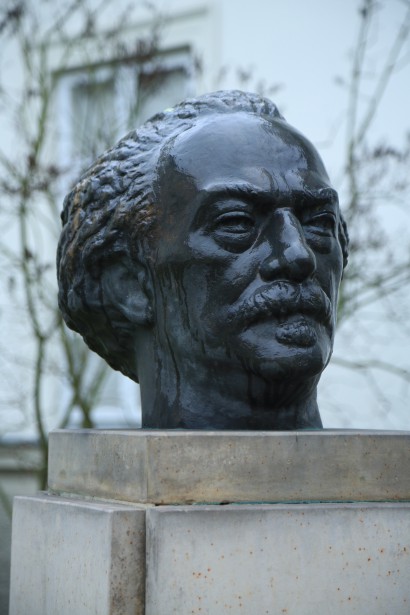 ---
Ignacy Jan Paderewski
---
The Monument to Ignacy Jan Paderewski is located near the Officer Cadets School. It is made of bronze. It stands on a tall, stone pedestal.
It was made by Alfons Karny - a famous Polish 20th century sculptor. He was the author of many excellent portraits of Polish personalities. Ignacy Jan Paderewski (1860-1941) was an outstanding Polish pianist, composer, and politician. Even before the outbreak of World War I, however as a globally recognized musician already, he was involved in active diplomatic efforts to reinstate Poland's independence. In 1919, he became the Prime Minister of the reborn Republic. The sculptor showed Paderewski looking out into the distance, masterfully depicting an expression of focus and reflection on his face. The Officer Cadets School houses the Ignacy Jan Paderewski Room dedicated to this remarkable pianist and politician.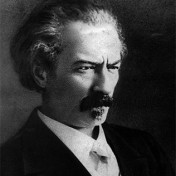 Ignacy Jan Paderewski (1860-1941)
Born on 6 November 1860 in Kuryłówka in the Podolia region, in a family of an administrator of land property. In 1872, he begun studies at the Warsaw Institute of Music, continued his education in Berlin, and later perfected his piano skills in Vienna. At that time, he also composed. In 1888, he played a series of concerts in Salle Érard in Paris. They initiated his brilliant career of a pianist. Three years later, he enjoyed a great success during his tour in the United States. Since then, he performed in almost all countries of Europe, North America and South America, as well as in Africa and Australia. He was considered one of the greatest pianists of his era.
During World War I, taking advantage of his numerous contacts in the world of politics, Paderewski supported the Polish pursuit to regain independence. On 28 June 1919, as Prime Minister and Minister for Foreign Affairs, together with Roman Dmowski, he was in charge of the Polish delegation at the Paris Peace Conference, and signed the Versailles Treaty on behalf of Poland. He withdrew from the position of Prime Minister on 9 December 1919. In January of 1920, he departed for Switzerland.
During World War II, again, he sought help for Poland in the United States among other countries. He died on 29 June 1941 in New York. He was buried in the military Arlington National Cemetery in Washington. In 1992, his ashes were brought to Poland and laid to rest in St. John's Archcathedral in Warsaw.
Read more