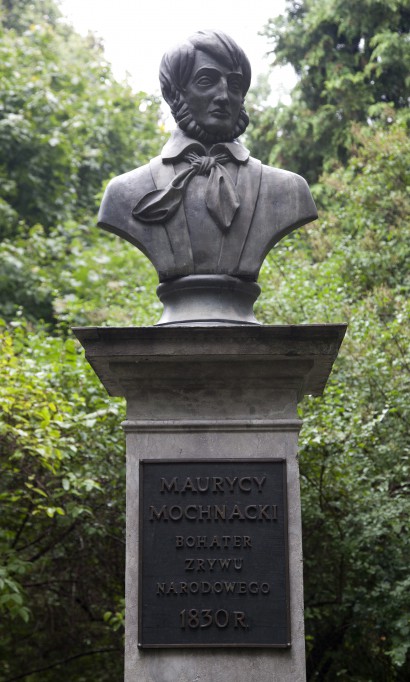 ---
Bust of Maurycy Mochnacki
---
The Bust of Maurycy Mochnacki is situated on a tall, marble pedestal near the Egyptian Temple.
Around 1822, the bust of the Tsar of Russia - Alexander I, now lost, stood on the same pedestal. Since 2000, it has served as a foundation for the bronze bust of Maurycy Mochnacki, a political activist, columnist, soldier, and member of the November Uprising; it was made in contemporary times by Wiesław Winkler. The life of Maurycy Mochnacki was connected with the Royal Łazienki.
In 1822, he was sentenced to maintenance works in the nearby Belvedere garden for slapping a police inspector in the face. Mochnacki was also a member of the Piotr Wysocki's Conspiracy, and he took part in the November Night of 29 November 1830, which marked the beginning of the uprising. Mochancki was also attached to the Royal Łazienki through his friendship with Fryderyk Chopin, whose monument stands in the Park.