Long Night of the Palace on the Isle and the Old Orangery
---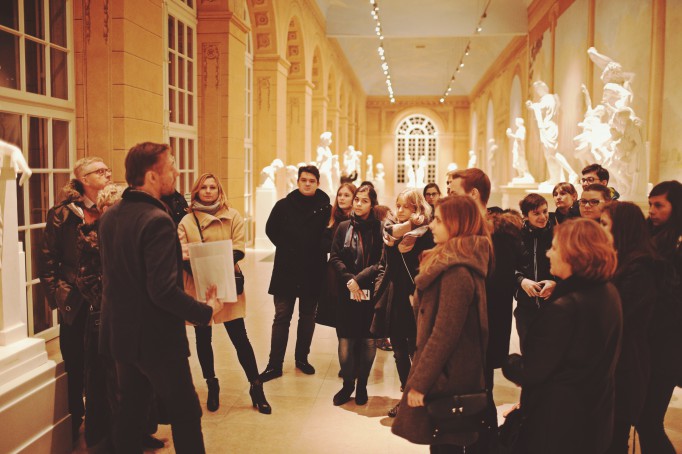 On each Saturday of November – from 7:00 p.m. to 11:00 p.m. – visitors are invited to the Long Night of the Palace on the Isle and the Old Orangery with the Royal Theatre. We recommend it to all those who would like to see beautifully illuminated interiors, and learn about the history of Stanisław August's collections of paintings and sculptures – recounted by our educators.
The Royal Łazienki staff will await visitors in the Ballroom, the Portrait Room, the Royal Painting Gallery, and King's Private Apartment in the Palace on the Isle, while in the Old Orangery, visitors will be expected in the Royal Sculpture Gallery and the Royal Theatre. Audio guides will be available for the tour (PLN 5).
The Palace on the Isle is undoubtedly worth a visit. It houses the Royal Painting Gallery, which – similarly to the Royal Sculpture Gallery – is the fulfilment of the ruler's dream of a modern museum accessible to the public. Individual paintings are valuable in themselves, but they are also part of the entire collection, which – carefully and attentively assembled by Stanisław August – constitutes an object of exceptional value as a whole.
The 137 paintings displayed in the Palace on the Isle (according to the Royal catalogue from 1795) form the country's largest collection of paintings assembled by the last King of Poland. From among numerous works of art it is possible to contemplate paintings by the most prominent portrait artists of the King's era: the portrait of the Duchess Santacroce – by Angelika Kauffmann, and another one depicting Charles Hanbury Williams – by Anton Raphael Mengs.
In the Old Orangery, it is worth seeing the Royal Sculpture Gallery, which has been reinstated in line with Stanisław August's conception, after finding 18th century paintings. Among the items displayed in the Gallery are marble sculptures and plaster copies of the greatest Ancient works of art including the famous Laokoon Group – all collected by the King.
The Royal Theatre in the Old Orangery is one of the few preserved 18th century court theatres in Europe, which – since 2015 – is a part of the Baltic Route of the European Route of Historic Theatres.
During the Long Night of the Palace on the Isle and the Old Orangery – the Royal Łazienki gates by Gagarina, Agrykoli and Aleje Ujazdowskie streets (near the Belvedere and the Monument to Chopin) – will be open until midnight, and the main alleys will be illuminated.