2017 Winter Evening of Light. Thousands of visitors on a walk with lanterns
---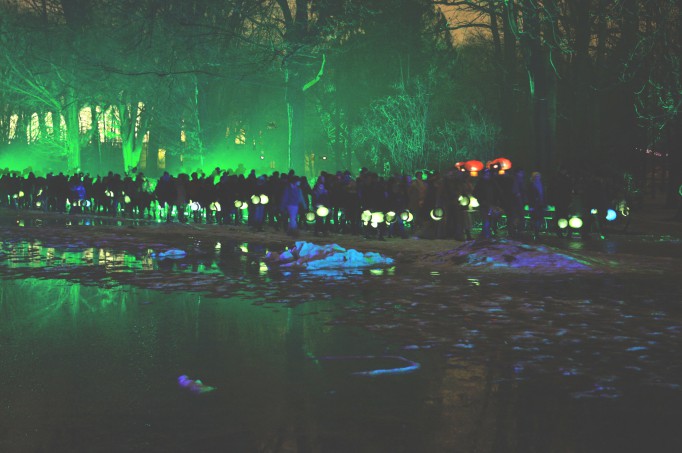 The magically illuminated gardens, strollers with colourful lanterns and climatic music – on 18th February, the Winter Evening of Light was held in the Royal Łazienki for the fifth time already. We wish to thank all the visitors who took part in this remarkable event.
The Winter Evening of Light is an event organised as part of the "Gardens of Light" international project. It is the only opportunity to walk through the historic gardens of Łazienki and see how the magically illuminated buildings and surrounding trees of the summer residence of King Stanisław August emerge from darkness.
On Saturday night, thousands of people came to the Royal Łazienki. At 7 p.m., when the Winter Evening of Light started, strollers set off on the trails from three different points in the gardens – near the Monument to Chopin and at the entrances from the side of Gagarina and Agrykoli streets.
On each of the trails, visitors had the opportunity to admire the specially designed illuminations of the buildings and gardens, listen to stories told by our educators and take a photograph with actors dressed in costumes of the time, which had been prepared by the duo Jeziorska&Łęczycka. Live music performed on percussion instruments was yet another attraction.
The final of Winter Evening of Life took place on the terrace in front of the Palace on the Isle. The guests enjoyed an atmospheric concert by The New Brass Trio band composed of: Przemysław Skałuba (tenor saxophone), Damian Marat (trumpet) and Wojciech Baranek (tuba). The musicians performed the most popular pieces of, among others, Bach, Haydn, Mozart and Handel.
The next evening walk with lanterns, that will be full of attractions too, will be held already in a year. We count on your participation as well.
On 18 February 2017, the Winter Evening of Light event was also organised in the residences which together with the Royal Łazienki form the 'Gardens of Light' project. These are: The Prince Pückler Park in Bad Muskau in Germany, the Tsarskoye Selo Museum in Saint Petersburg in Russia, the Prince Kung's Mansion in Beijing in China, the Château de Lunéville in France, and the Frederiksborg Castle in Hillerød in Denmark.