Emir of Qatar and President of the Republic of Poland in the Royal Łazienki
---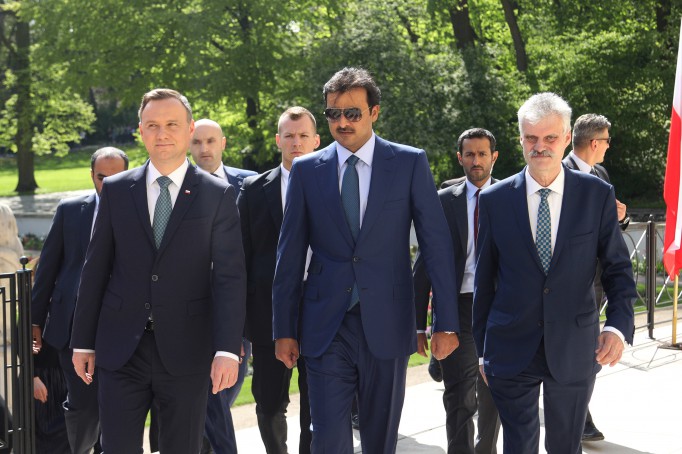 The Emir of Qatar, Sheikh Tamim bin Hamad Al Thani, who paid an official visit to Poland, visited the Royal Łazienki together with President Andrzej Duda. An official breakfast was held in the Old Orangery on 5 May 2017.
The official breakfast hosted by the President of the Republic of Poland in honour of the Emir of Qatar was also attended by: The Speaker of the Senate, Stanisław Karczewski, Deputy Prime Minister and Minister of Education, Jarosław Gowin, Deputy Prime Minister and Minister of Culture and National Heritage, Piotr Gliński, and Minister of Foreign Affairs Witold Waszczykowski.
- First of all, I would like to thank everyone for this extremely extensive and productive programme of the visit. For all the contracts that have been signed today, and in particular for the agreement on economic cooperation – said President Andrzej Duda in the Old Orangery.
At the same time, he expressed his confidence that the very well developing Polish-Qatari relations, including diplomatic relations thanks to the commitment of His Majesty, will be given new momentum.
Raising his glass for a toast, the Emir of Qatar said in turn that he hoped that the Polish-Qatari relations would continue to be developed and will translate into subsequent contracts. He also stressed that Polish companies are invited to participate in projects connected with the FIFA World Cup hosted by Qatar in 2022 and to take up projects under the "Qatar 2030" programme.