Prince William and Duchess Kate on reception in Royal Łazienki
---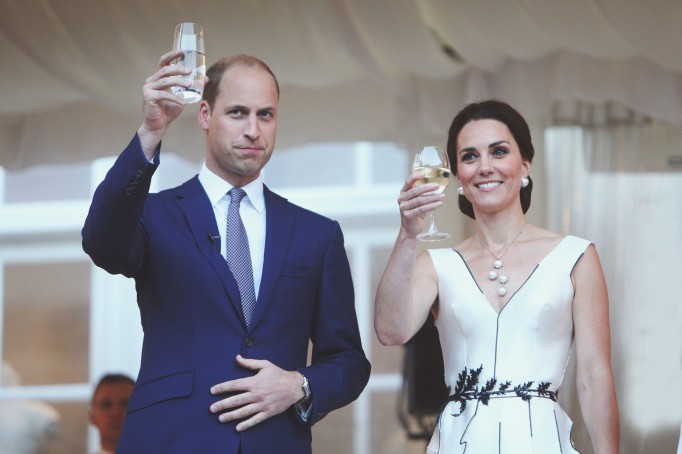 During their first official visit to Poland, the Prince and Duchess of Cambridge visited the Royal Łazienki. On 17 July 2017, a reception was held at the Old Orangery to celebrate the birthday of Queen Elizabeth II.
The party, whose attendants included Prince William, Duchess Kate, President of the Republic of Poland, Andrzej Duda and his wife, Agata Kornhauser-Duda as well as hundreds of other guests, started at 20.00. Following their arrival, the Royal Couple was welcomed by Professor Zbigniew Wawer, Director of the Royal Łazienki Museum, after which they exchanged greetings with representatives of the Parliament and the Government, including the Deputy Prime Minister and Minister of Culture, Piotr Gliński, and the Minister of the Environment, Jan Szyszko.
The British Ambassador welcomed the guests. "It is a special day for us. We celebrate it in the company of President Andrzej Duda and their Royal Highnesses", said Jonathan Knott, British Ambassador to Poland.
Afterwards, Prince William spoke to the guests. "Panie i panowie, dobry wieczór" (Ladies and gentlemen, good evening), he started his speech in Polish. "Tonight, we have a double reason to celebrate: we mark the birthday of my grandmother-Queen, and we celebrate the depth and breadth of the shared ties of our two great countries". "The links between Britain and Poland go back centuries, and are steeped in a rich history of cultural exchange and close commercial relations", Prince William emphasised.
The Duke of Cambridge remarked on plays by William Shakespeare, which were performed in Poland very soon after they were first staged in Great Britain. He also talked about the Warsaw Ghetto Uprising in 1943, Warsaw Rising in 1944, and the Solidarity bringing an end to communism in 1989. "We admire Poland as a remarkable example of courage, fortitude and resilience. You have survived centuries of assaults on your land, including partitions that were designed to wipe you off the map of Europe. In the 20th century, Poland displayed incredible bravery in resisting brutal Nazi occupation". The Prince mentioned British soldiers stationed in Poland in a NATO operation and Polish people living in Great Britain.
Prince William then read a letter from Elizabeth II. The Queen and her husband, Prince Philip, sent their good wishes to all people attending the party. The British Queen mentioned her visit to Poland in 1996 and emphasised her fond memories from that stay. "In 1996, I spoke about the depth of British-Polish relations, dating back nearly a thousand years, and it gives me great pleasure that the friendship between our two nations and peoples has since gone from strength to strength". "I have no doubt it will continue to prosper in the years to come", Queen Elizabeth stressed.
"Dziękujemy i miłego wieczoru" (Thank you and I wish you a good evening), Prince William concluded in Polish.
At the end, the Ambassador raised a toast to Queen Elizabeth, to the President of the Republic of Poland and to Poland, Great Britain and their partnership.