New exhibits added to the Golden Collection of Coins in the Royal Łazienki Museum
---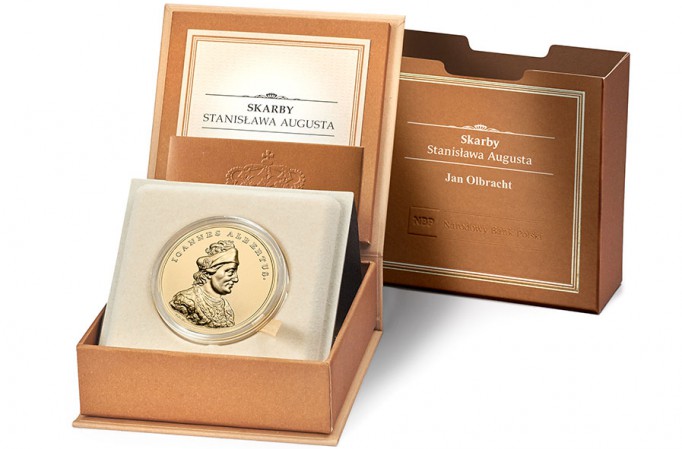 The Golden Collection of Coins in the Royal Łazienki has been enriched by new exhibits. The Chancellery of the President of the Republic of Poland deposited three coins with images of Polish kings in the Museum.
The collector's coins showing Jan Olbracht (John I Albert), Kazimierz Jagiellonczyk (Casimir IV Jagiellon) and Władysław Warneńczyk (Władysław of Varna) found their way to the Royał Łazienki. The new additions will expand the collection, which already comprises exhibits featuring images of Bolesław Chrobry (Bolesław I the Brave), Wacław II Czeski (Wenceslaus II, Duke of Bohemia), Władysław Łokietek (Władysław I the Elbow-high), Kazimierz Wielki (Casimir III the Great), Ludwik Węgierski (Louis I of Hungary), Władysław Jagiełło (Władysław II Jagiełło) and Jadwiga Andegaweńska (Jadwiga of Poland).
The coins were issued by the National Bank of Poland as part of the 'Treasures of Stanisław August' series. It is a reproduction of the famous 18th-century collection of medals displaying images of kings of Poland and commissioned by Stanisław August.
The 'Treasures of Stanisław August' series includes images of 24 monarchs – 23 rulers coming from the original royal series, while an additional portrait of Stanisław August was reproduced based on the medals from the times. Like the 18th century medals, the coins were minted in gold and silver. They are replicas as they retained the diameter and the height of the relief of the originals. They show portraits of rulers on the reverse side. On the obverse side, one can read life histories of the kings which, as opposed to the originals, have been reduced in size since the descriptions were accompanied by a rim with the name of the State, the emblem of the Republic, the nominal value and the year of issue.
The royal medals were created in the Warsaw Mint in the years 1791–1797/1798. They are the work of two prominent medallists – Jan Filip Holzhaeusser and Jan Jakub Reichel. The medals were modelled on the portraits painted by Marcello Bacciarelli in the years 1768–1771 for the Marble Room in the Royal Castle in Warsaw.