Roses for the 100th anniversary of Polish independence
---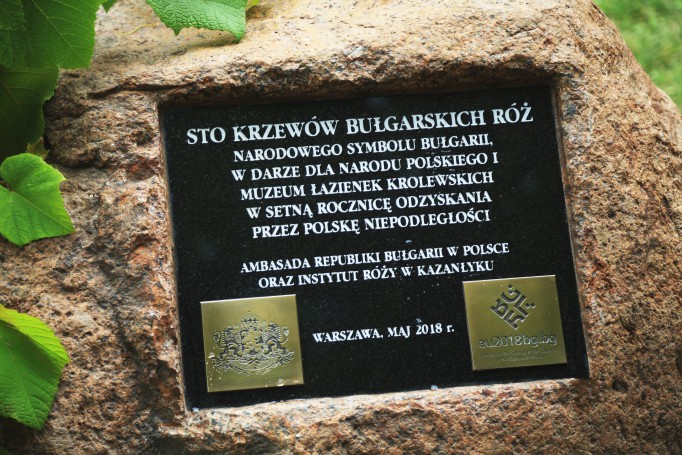 On the occasion of the 100th anniversary of Polish independence, the Embassy of the Republic of Bulgaria gifted one hundred Damask roses to the Royal Łazienki. The flowers adorn the Modernist Garden, where – on 18 July 2018 – a board commemorating the gift from the Bulgarians was unveiled.
His Excellency Emil Savov Yalnazov, Ambassador of the Bulgarian Republic, and Professor Zbigniew Wawer, Director of the Royal Łazienki Museum took part in the ceremony.
The Damask roses decorate the naturalistic part of the Modernist Garden, near Gagarina street. The flowers were planted in a large flower bed, against the background of dark-green Serbian spruces. The Damask roses have given a new quality to the part of the Łazienki garden that is organized according to loose structure, with fruit trees, dating from the first half of the 20th century.
These unique flowers, which can be almost regarded as the national plant of Bulgaria, grow in the world renowned Rose Valley. As early as in the 19th century, this place was described in literature as one of the most beautiful and most fragrant rose valleys of Europe. Therein lies the Thracian town of Kazanlak, known for its rose oil distilleries. It is the location of the Museum of Roses and a rose-themed festival.
The one hundred Damask roses gifted by the Embassy of the Republic of Bulgaria are but another element of the Polish-Bulgarian cooperation in the Royal Łazienki. Earlier, the Museum has featured an exhibition of Thracian gold from the National History Museum in Sofia, and the First-May European Picnic was organized in cooperation with the Bulgarian Embassy.