"Centenary of Relations Between Poland and Latvia". Exhibition preview
---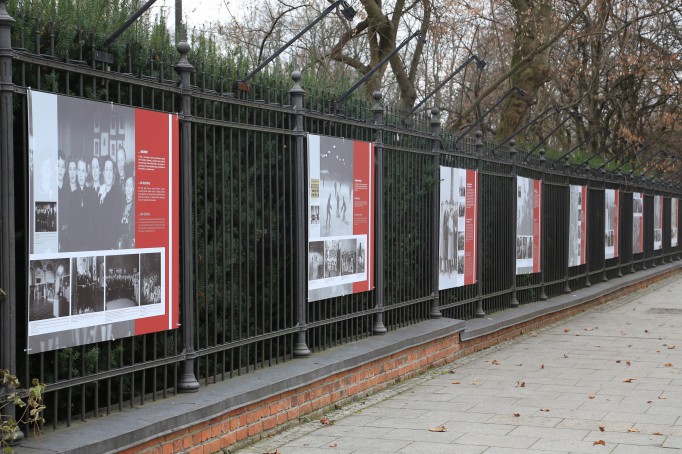 On 29 November 2019, at the Royal Łazienki, a preview of the exhibition presenting the history of relations between Poland and Latvia was held with the participation of invited guests.
The exhibition displayed in the Open-Air Gallery in Al. Ujazdowskie was organized in cooperation with the Embassy of Latvia in Poland under the honorary patronage of the President of Poland Andrzej Duda and the President of Latvia Egils Levits.
– For centuries long, Poles and Latvians have formed very close and cordial ties. (...) I am very pleased that the achievements of our friendship and solidarity have been so beautifully illustrated by the exhibition which is a common Polish and Latvian work and which we are solemnly opening today on the occasion of the hundredth anniversary of establishment of diplomatic relations between our countries – president Andrzej Duda wrote in a letter which was read out during the preview.
– I wish to address the Ambassador of the Republic of Latvia to Poland and Director of the Royal Łazienki Museum with warm thanks going to all the co-authors of the project. It was with great satisfaction that I assumed the patronage over the exhibition together with the President of the Republic of Latvia. I am confident that the history of Polish-Latvian relations and our present-day cooperation constitute an inspiring model for building bridges between the people and nations which makes it worth promoting the exhibition among the widest public possible. I am pleased that the exhibition, which we are opening today, will also be accessible to the public in Latvia shortly. (...) I am sure that the project "Centenary of Relations between Poland and Latvia" will significantly contribute to the strengthening of the close bonds between our nations – President Duda emphasised.
The exhibition, which can be viewed until 31 January 2020, presents the history of relations between Poland and Latvia. The main emphasis was put on the inter-war period, beginning from the recovery of independence by both states and the common fight against Bolsheviks in the "Operation Winter" and the Battle of Daugavpils. The exhibition features the long-standing cooperation of Poland and Latvia in areas such as: Military, education, sport, culture, industry and trade.