Poems in the City. Exhibition in the Open-Air Gallery
---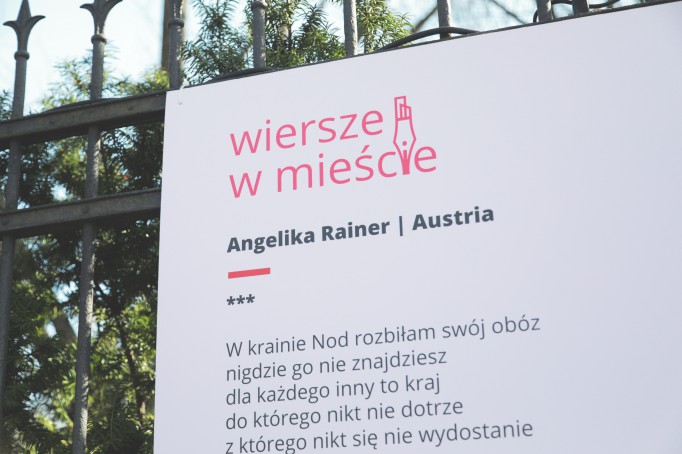 From 1 April to 28 April 2017, the Open-Air Gallery in the Royal Łazienki at Al. Ujazdowskie in Warsaw will house poetry. Works by several European poets will be displayed on exhibit panels as a part of "Poems in the City" project.
Poetry will bloom in all corners of Warsaw during the event in April. Poems will appear not only in the Open-Air Gallery in the Royal Łazienki, but also on posters, bus stops, in clubs, bookstores, and in the centre of the capital. Thus, as it was emphasised by the organizers of "Poems in the City" – the Association of European Union National Institutes for Culture in Warsaw – it is not possible not to read them.
- What are we today, we, Europeans? Where are we heading? Do we understand the European cultural community and how exactly do we understand it? – these are questions we have to ask ourselves if we are to meet the challenges of the present. Do poets ask these questions as well? If so, how do they address them? This is what motivated us in creating the theme of "Poems in the City" project – says Bogusława Sochańska, Director of the Danish Cultural Institute in Warsaw.
The Open-Air Gallery will feature literary works of the following poets: Angelika Rainer (Austria), Anise Koltz (Luxembourg), Ausra Kaziliūnaitė (Lithuania), Daniel Jonas (Portugal), Daniela Seel (Germany), France Prešeren (Slovenia), Geert van Istendael (Flanders), Joanna Mueller (Poland), Katariina Vuorinen (Finland), Leelo Tungal (Estonia), Moniza Alvi (United Kingdom), Muharrem Dayanç (Turkey), Rita Chirian (Romania), Seamus Heaney (Ireland), Thomas Boberg, (Denmark), Valerio Magrelli (Italy).
Their poems, some of which were written especially for the event, represent a diversity of traditions and beliefs, but also bear the testimony to the changes that are happening before our eyes. Europe, being the core motif of "Poems in the City", is depicted not only through the prism of wealth of cultural material, but also through contemporary issues.
The organizers of the "Poems in the City" are European cultural institutes and cultural departments of embassies affiliated with EUNIC Warsaw: Austrian Cultural Forum in Warsaw, British Council, Instituto Camões, Danish Cultural Institute, the Embassy of Estonia, General Representation of the Government of Flanders at the Belgian Embassy, the Embassy of Finland, Goethe-Institut, the Embassy of Ireland, the Lithuanian Culture Institute and Cultural Attaché of the Republic of Lithuania in the Republic of Poland, the Embassy of Luxembourg, the Romanian Cultural Institute, the Embassy of Slovenia, Italian Cultural Institute, Yunus Emre Enstitüsü.
Co-organizer – The Capital City of Warsaw, partner – the Royal Łazienki Museum in Warsaw, honorary patronage – the European Commission Representation Office in Poland.