New agreements on Norway Grants for Poland signed
---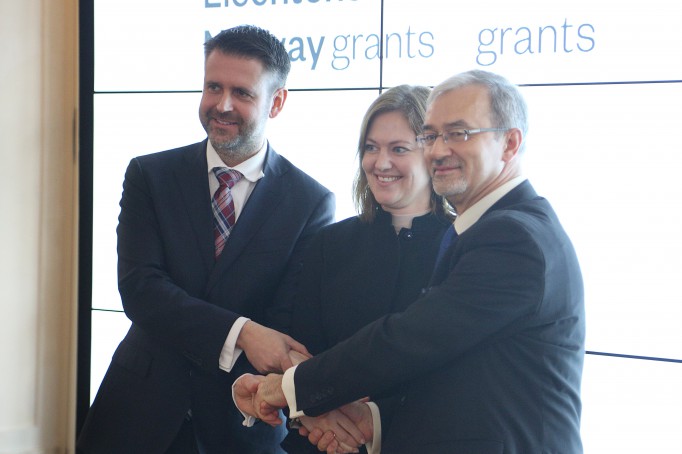 On 20 December 2017, international agreements were signed during a ceremony held in the Palace on the Isle at the Royal Łazienki, granting Poland nearly €810 million from the EEA and Norway Grants. The funds will be used for projects involving environmental protection and development of the civil society.
The agreements were signed by Poland's Deputy Minister of Economic Development, Jerzy Kwieciński, Norway's Minister of the EEA European Affairs, Marit Berger Røsland, and the Ambassador of Iceland in Poland, Martin Eyjólfsson.
In mid-October of last year, Poland completed the negotiations regarding the third edition of the EEA (European Economic Area) and Norway Grants. It was agreed that Poland will receive a total of €809.3 million, which means that we will be the largest beneficiary of the grants.
The third edition of the EEA and Norway Grants for Poland covers the period of 2014-2021. For this edition, the donor countries set aside a sum of over €2.8 billion. 15 countries have been granted aid.
What are the EEA and Norway Grants?
The EEA and Norway Grants are a form of a non-refundable financial aid granted by Iceland, Liechtenstein and Norway to a dozen EU member states. In return, the donor countries can participate in the internal market of the EU without being its member states.
The EEA and Norway Grants are aimed to reduce the economic and social disparities within the territory of the EEA and strengthen the bilateral relations between the donor and beneficiary countries.
The first edition of the grants covered the period of 2004-2009. At that time, a sum of €528 million was granted to Poland. 413 projects and programmes were implemented. We are currently at the conclusion of the second edition, in the course of which, approx. 1,400 projects were financed. In the years 2009-2014, Poland received a total amount of €578.1 million. The implementation of projects funded from the EEA and Norway Grants in Poland is overseen by the Ministry of Economic Development.