Exhibition: At source. Inspirations of the Korean Tradition and Culture
---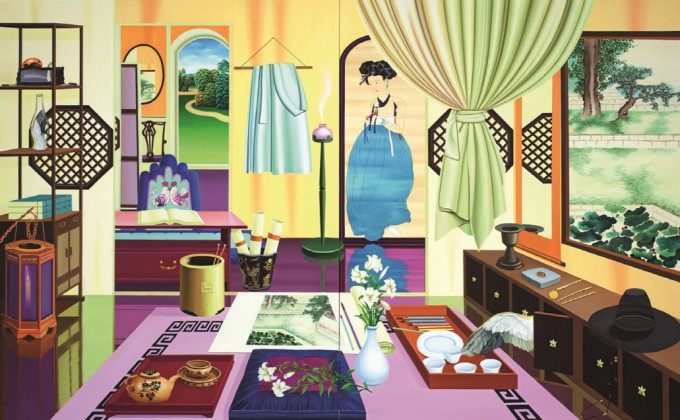 The works drawing on the aesthetics of Korean traditional art, created by contemporary artists working in Korea and abroad, can be viewed at the exhibition held in the Officer Cadets School. The exhibition is displayed as part of the Month of Korean Culture organized by the Centre of Korean Culture in Warsaw.
The exhibition "At source. Inspirations of the Korean Tradition and Culture" will be opened from 3 October to 6 November 2020 from 10.00 to 16.30. Entry: PLN 10 – normal ticket, PLN 5 – reduced ticket, PLN 1 – children aged up to 7 years and youth up to 26 years of age, on Fridays – admission if free of charge. The exhibition can also be visited within a single admission ticket to all the museum facilities (PLN 30 – normal ticket, PLN 15 – reduced ticket).
A limited number of visitors can visit the exhibition at a time: 15. The visit duration time is limited to maximum 30 minutes.
Korean art
The exhibition reflects the search for the identity of Korean contemporary art in traditional art and serves the promotion of that aesthetics in the world. The exhibition presents the works of eleven contemporary artists, working both in and outside Korea and drawing on Korean traditional art, the roots of which can be traced to as early as five thousand years ago. The works, which feature the aesthetics of Korean art, are special in their form and content. The differences stem from the fact that their authors use their own artistic languages, while showing in their works themes which are so characteristic for the Korean art, such as Buddhist statues and elements of Korean symbolism and design, e.g. the Hangul alphabet.
Polish-Korean cooperation
The Exhibition "At source. Inspirations of the Korean Tradition and Culture" prepared by the Savina Museum of Contemporary Art from Seoul, is one of the "Travelling Korean Exhibitions of the Year 2020", developed in cooperation with major foreign artistic institutions. The project is carried out with the support of the Ministry of Culture, Sports and Tourism of the Republic of Korea and the exhibition is sponsored by the Korean Foundation for International Cultural Exchange.
The exhibition, which is presented at the Royal Łazienki Museum, was prepared in collaboration with the Centre of Korean Culture in Poland as part of the Month of Korean Culture. The exhibition not only brings the Korean culture closer to the Polish public, but it is also an example of model cooperation in the field of cultural exchange between our countries.