A unique photograph of Karol Beyer in museum collections
---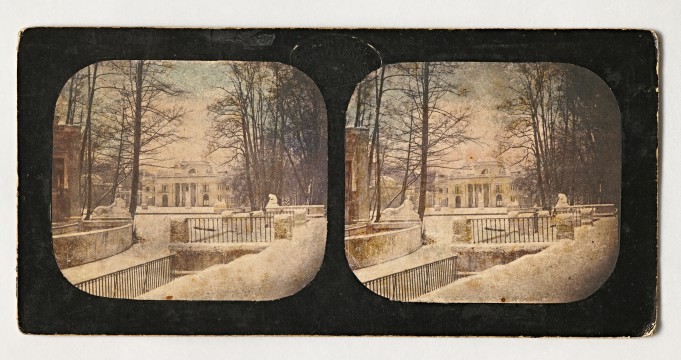 The first known photograph of the Royal Łazienki, one of the two preserved 19th-century stereo photographs by Karol Beyer, outstanding Polish photographer, was added to the museum collections.
The winter image of the Palace on the Isle and the Amphitheatre produced by Beyer is an extremely valuable material from the point of view of the history of Polish photography and iconography of the Royal Łazienki.
This is the first photograph of the Royal Łazienki. It was probably taken between 1855 and 1857, therefore it shows the royal residence during a period of time, from which no considerable iconographic material remained. In addition, it is a winter depiction, extremely rare in the 19th century photography due to the technical difficulty required for producing the picture.
The photograph is 85 x 172 mm in size; the prints were made on salted paper from a glass negative; on top, in the middle, an oval dry seal was affixed: KAROL BEYER IN WARSAW, NO. 1359, WARECKA STREET. The reverse side features a written inscription: Warsaw / Łazienki.
It is the second stereo photograph by Beyer, which was created between 1855 and 1857, as well as the second one signed with a dry stamp with an the address in Warecka Street. The first is a photograph of the Royal Castle and the Kubicki Arcades, which is found in the collections of the National Museum in Warsaw.
The Royal Łazienki were depicted by Bayer at least once more. It is a print created in 1858 and showing, in the spring-summer season, the monument of King Jan III Sobieski in Agrikoli and a view of the Palace on the Isle, kept in the collections of the National Museum in Warsaw.
Photographer of Warsaw
Beyer (1818–1877) was one of the most outstanding Polish photographers of the 19th century, considered to be the creator of Polish professional photography. He opened his first permanent atelier in 1845. Five years later he moved to a home in Warecka Street. He ran a photo shop there until 1857.
He was mainly known as a photographer of Warsaw; he captured the most significant town buildings, including many monuments. He also became an innovator in the history of photography, as he implemented on a current basis the latest world technologies and created his own techniques. Stereoscopic photography, an example of which is the winter depiction of the Palace on Isle and the Amphitheatre, was developed in parallel with the creation of daguerreotype, although its real development and popularity came with the development of paper photography in the 1950s.In Beyer's shop, photographs with the negative and positive technique were taken since mid-1853 using salted paper, and prints were often hand-enhanced with watercolours. Beyer's first known stereo photographs were created between 1855 and 1857 and presented at the Industrial and Agricultural Exhibition of the Empire and Kingdom of Poland at the Governor's Palace.