#Palace Day 2022 at the Royal Łazienki
---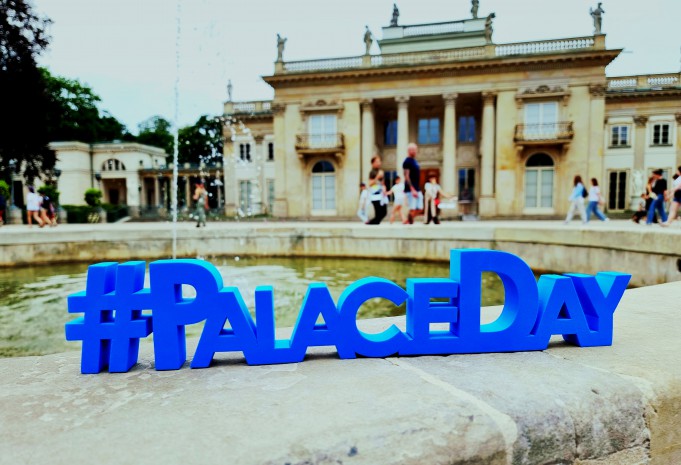 You are cordially invited to #PalaceDay, which is organized each year, on 19 July, in European Royal Residences. On this day, many palace-museums can be visited free of charge and, in addition, there will be special attractions waiting for you there!
Do visit us, and please confirm your presence at the Royal Łazienki on Facebook and Instagram with the #PalaceDay hashtag. This year's themes are: biodiversity, gardens and parks, water and nature motifs in art. And where else can you find all these, other than at the Royal Łazienki! Everyone is welcome: adults, young people and children.
19 JULY (TUESDAY)
ATTRACTIONS IN THE HISTORIC INTERIORS:
10.00-18.00 - admission to the Palace on the Isle, the Old Orangery, the White Pavilion, the Water Tower and the Museum of Hunting and Horsemanship - i.e. the Kubicki Stables and the Canonists' Barracks - free of charge. Last admissions to these buildings are half an hour before closing time, i.e. at 17.30.
14.00 - guided tour in English of the Palace on the Isle, the White Pavilion and the Old Orangery along the flora and fauna trail. An educator will be waiting for you near the entrance to the Palace on the Isle. Places are limited (15 persons). We regret that you cannot reserve a place and that the 'first-come, first-served' rule will apply.
12.00-15.30 - a workshop on water and nature of the Łazienki at the Centre for Ecological Education in the New Palmhouse. There are a limited number of places for each workshop. We regret that you cannot reserve a place and that the 'first-come, first-served' rule will apply. Each workshop lasts half an hour. Meetings will start at 12.00 and will be run at the following times: 12.00, 12.30, 13.00, 13.30 (with a half hour break at 14.00), then 14.30, 15.00 and 15.30.
ATTRACTIONS IN THE HISTORIC PARK AND GARDENS:
10.00-14.00 - plein-air painting on the lawns opposite the Trou Madame Pavilion. You will be able to create your own works of art on the theme of flora and fauna under the guidance of an experienced artist.
Take a photo as a souvenir at Instagram Selfie Frame which is located between the Amphitheatre and the bridge.
Visit the shop under the cloud. At the Old Guardhouse you can buy books and gadgets that are associated with the Royal Łazienki.
---
The initiator of the International #PalaceDay campaign is the Network of European Royal Residences (ARRE) based in Versailles. It was founded in 2001 and brings together residences from Austria, Belgium, Denmark, Spain, the Netherlands, France, Germany, Poland, Portugal, Monaco, Russia, Sweden, Hungary, the United Kingdom and Italy. It is dedicated to promulgating knowledge about European heritage and to carrying out joint cultural projects. The Royal Łazienki Museum has been a member of ARRE since July 2015.