#Palace Day 2023 at the Royal Łazienki
---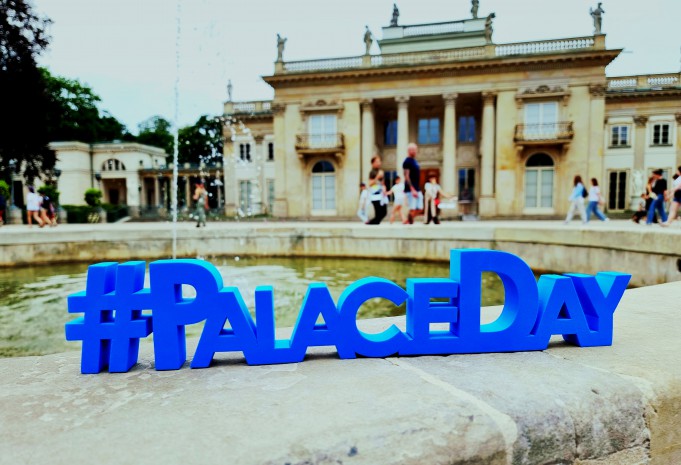 Free tours, educational guided tours, observations of the Sun through telescope and art workshops are the highlights of this year's #PalaceDay at the Royal Łazienki. All visitors are welcome: children, youth and adults.
#PalaceDay is a campaign of the Association of European Royal Residences ARRE and its idea is to promote and highlight shared culture and heritage. The theme of this year's eighth edition is: astronomy, astrology and mythology. On 19 July, AREE residences will publish dedicated posts on Facebook and Instagram. You can use these motifs when sharing your impressions of your visit to the Royal Łazienki social media – simply tag your post with the hashtag #PalaceDay.
Free tour
10.00-16.00 – Free admission to the Palace on the Isle and the Royal Picture Gallery, (ground floor), the Old Orangery with the Royal Theatre, the Myślewicki Palace (ground floor), the White Pavilion (ground floor), the Water Tower (ground floor) and the Cantonists' Barracks (exhibitions 'Forest', 'Birds', 'Eye to Eye', 'The Hunting Room') and the Kubicki Stables (the Royal Weaving Workshop, Zbigniew Prus-Niewiadomski Coach House) in the Museum of Hunting and Horsmanship.
Educational guided tours
Museum educators will present the most interesting elements of the interior decoration in the Palace on the Isle, which allude to mythology, the symbolism of time and cosmos. They will also talk about the signs of the zodiac with which architects and decorators wanted to reflect King Stanislaus Augustus' vision of the ideal state. Adults, youth and children aged 10 and over are welcome to attend these educational guided tours. Free entrance.
Location and times of guided tours:
Palace on the Isle
12.00-13.00 – guided tour in English
14.00-15.00 – guided tour in English
Observing the Sun through telescopes
14.00-18.00 – Experts from the Polish Astronomical Society will tell interesting facts about the Sun and give tips on how to observe the star safely. Everyone will be able to look at the Sun through telescopes. In addition, visitor will see the solar system on posters showcasing astrophotography works. And children will have a possibility to colour paper masks depicting the planets. Place: open air at Trou Madame. An event with no age restrictions.Free entrance.
Art workshops
15.00-16.00 – Together we will create plaster casts inspired by astrological and mythological motifs. Place: the moulding shop in the Old Orangery. Workshop in English for families with children aged 7 years and over. Booking required: rezerwacje@lazienki-krolewskie.pl. Free entrance.
---
The initiator of the International #PalaceDay campaign is the Network of European Royal Residences (ARRE) based in Versailles. It was founded in 2001 and brings together residences from Austria, Belgium, Denmark, Spain, the Netherlands, France, Germany, Poland, Portugal, Monaco, Russia, Sweden, Hungary, the United Kingdom and Italy. It is dedicated to promulgating knowledge about European heritage and to carrying out joint cultural projects. The Royal Łazienki Museum has been a member of ARRE since July 2015.